Although the Python not included, Dana Proctor is also hawking 6 other wardrobe selections in conjunction with risqué outfit which Britney Spears wore to perform at the 2001 MTV Video Music Awards, which has been put up for sale on internet auction site eBay.
Dana Proctor, who started her collecting her old costume back in 2003 after Britney auctioned off some of her outfits, will include an authenticity certificate with the items and wants to sell them all together for a total sum of $1 million.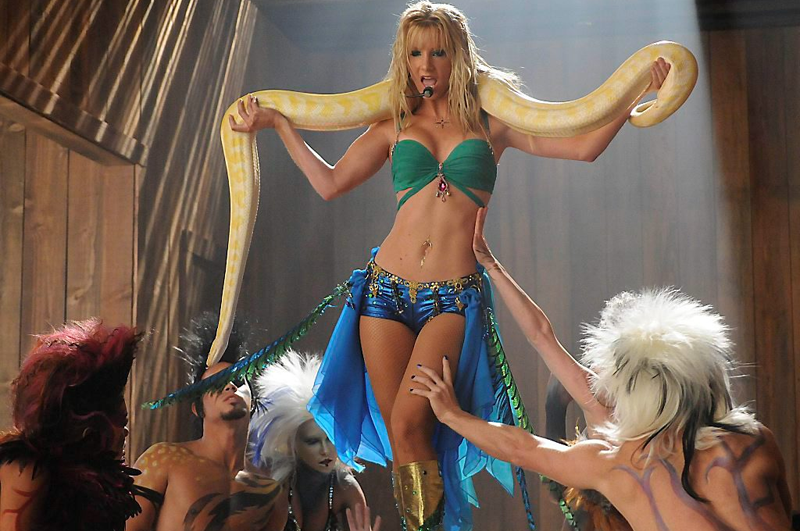 Proctor wrote on the eBay listing: 'I have collected theses outfits since 2003 when Britney auctioned them off….they are all authentic with Authenticity Certificates.'
Some highlightson the dress:
Overprotected" music video Levi's chaps
2008 VMAs custom Versace Atelier dress
'I am A Slave 4 U' music video costume
'Me Against the Music' music video (feat. Madonna) dress..
Dana Proctor said: 'These are arguably the most iconic costumes in the history of music…Britney is ending her Piece of me show in Vegas at the end of the year, and with this being her 9th album, it wouldn't surprise me if she retires after 18 years (just my thoughts).'
The seller also included a list of the items for sale, explaining when Britney wore them and the fact that they they were all custom made, including the she sizes, but wasn't so sure the exact size of the shoes since they were not indicated.